{"id":4629245231194,"title":"Seed Starter Kit: Edibles","handle":"seed-starter-kit-edibles","description":"\u003cp\u003eA great place to start for your budding chef-gardener! These delightful kits contain everything you need to start you off growing edible flowers, herbs and veg.\u003c\/p\u003e\n\u003cp\u003eThe seeds are easy to grow and look after. The kits contain seeds, compost and a growing tray. Simply cover the seeds with compost, water, and put the lid on the tray. Once seedlings have grown two or three leaves they can be transplanted into individual pots before planting out in the garden.\u003c\/p\u003e\n\u003cp\u003eFour starter kits are available, and each contain six seed types:\u003c\/p\u003e\n\u003cul\u003e\n\u003cli\u003e\n\u003cstrong\u003eGreen Kitchen (Herbs):\u003c\/strong\u003e thyme, coriander, dill, basil, parsley, chives.\u003c\/li\u003e\n\u003cli\u003e\n\u003cstrong\u003eEdible Flowers:\u003c\/strong\u003e calendula, viola, lavender, borage (star flower), centaurea (corn flower), tropaeolum (nasturtium).\u003c\/li\u003e\n\u003cli\u003e\n\u003cstrong\u003eItalian Kitchen:\u003c\/strong\u003e aubergine, sweet pepper, rocket, tomato, sweet basil, courgette.\u003c\/li\u003e\n\u003cli\u003e\n\u003cstrong\u003eMexican Kitchen:\u003c\/strong\u003e cayenne pepper, jalapeno pepper, sweetcorn, tomato, coriander, husk tomato.\u003c\/li\u003e\n\u003c\/ul\u003e\n\u003cp\u003eNot for children under 3 years old. Adult supervision is recommended.\u003c\/p\u003e\n\u003cp\u003e*Please bear in mind that the plants in the Edible Flowers, Italian and Mexican Kitchen kits are best planted in the spring, and if planted now, are unlikely to germinate.\u003cstrong\u003e To avoid disappointment, we suggest planting the Green Kitchen, which will grow all year round\u003c\/strong\u003e.*\u003c\/p\u003e","published_at":"2020-04-09T08:23:51+01:00","created_at":"2020-04-09T13:09:05+01:00","vendor":"Tuinplus","type":"Growing Kits","tags":["Age_5 to 8 years","Age_Over 8 years","edible flowers","flowers","gg-growkit","gg-sandb","Growing Kits","growkit-fruitandveg","growkit-herbs","herbs","italian","mexican","Price_Up to £5","Price_£5 to £9.99","seed starter kit","seeds","spring","starter kit","Variety_Flowers","Variety_Herbs","Variety_Vegetables","vegetables"],"price":450,"price_min":450,"price_max":600,"available":true,"price_varies":true,"compare_at_price":600,"compare_at_price_min":600,"compare_at_price_max":600,"compare_at_price_varies":false,"variants":[{"id":32083226132570,"title":"Edible Flowers","option1":"Edible Flowers","option2":null,"option3":null,"sku":"","requires_shipping":true,"taxable":false,"featured_image":{"id":14986644291674,"product_id":4629245231194,"position":4,"created_at":"2020-04-09T13:12:45+01:00","updated_at":"2020-06-15T21:10:13+01:00","alt":"Tuinplus Seed Starter Kit: Edibles","width":4032,"height":3024,"src":"https:\/\/cdn.shopify.com\/s\/files\/1\/1254\/1865\/products\/childrens-seed-starter-kit-edibles-growing-kits-14986605690970.jpg?v=1592251813","variant_ids":[32083226132570]},"available":false,"name":"Seed Starter Kit: Edibles - Edible Flowers","public_title":"Edible Flowers","options":["Edible Flowers"],"price":450,"weight":144,"compare_at_price":600,"inventory_quantity":0,"inventory_management":"shopify","inventory_policy":"deny","barcode":"8711117851790","featured_media":{"alt":null,"id":7141808570458,"position":4,"preview_image":{"aspect_ratio":1.333,"height":3024,"width":4032,"src":"https:\/\/cdn.shopify.com\/s\/files\/1\/1254\/1865\/products\/childrens-seed-starter-kit-edibles-growing-kits-14986605690970.jpg?v=1586434365"}}},{"id":32083226165338,"title":"Green Kitchen","option1":"Green Kitchen","option2":null,"option3":null,"sku":"","requires_shipping":true,"taxable":false,"featured_image":{"id":15276878659674,"product_id":4629245231194,"position":1,"created_at":"2020-05-12T19:57:43+01:00","updated_at":"2020-06-15T21:10:13+01:00","alt":"Tuinplus Green Kitchen Seed Starter Kit: Edibles","width":2559,"height":2448,"src":"https:\/\/cdn.shopify.com\/s\/files\/1\/1254\/1865\/products\/childrens-green-kitchen-seed-starter-kit-edibles-growing-kits-15276852707418.jpg?v=1592251813","variant_ids":[32083226165338]},"available":true,"name":"Seed Starter Kit: Edibles - Green Kitchen","public_title":"Green Kitchen","options":["Green Kitchen"],"price":600,"weight":144,"compare_at_price":null,"inventory_quantity":19,"inventory_management":"shopify","inventory_policy":"deny","barcode":"8711117851769","featured_media":{"alt":null,"id":7432205697114,"position":1,"preview_image":{"aspect_ratio":1.045,"height":2448,"width":2559,"src":"https:\/\/cdn.shopify.com\/s\/files\/1\/1254\/1865\/products\/childrens-green-kitchen-seed-starter-kit-edibles-growing-kits-15276852707418.jpg?v=1589309863"}}},{"id":32083226198106,"title":"Italian Kitchen","option1":"Italian Kitchen","option2":null,"option3":null,"sku":"","requires_shipping":true,"taxable":false,"featured_image":{"id":15276874006618,"product_id":4629245231194,"position":7,"created_at":"2020-05-12T19:57:10+01:00","updated_at":"2020-05-17T15:17:10+01:00","alt":"Tuinplus Italian Kitchen Seed Starter Kit: Edibles","width":2713,"height":2313,"src":"https:\/\/cdn.shopify.com\/s\/files\/1\/1254\/1865\/products\/childrens-italian-kitchen-seed-starter-kit-edibles-growing-kits-15276852772954.jpg?v=1589725030","variant_ids":[32083226198106]},"available":true,"name":"Seed Starter Kit: Edibles - Italian Kitchen","public_title":"Italian Kitchen","options":["Italian Kitchen"],"price":600,"weight":144,"compare_at_price":null,"inventory_quantity":3,"inventory_management":"shopify","inventory_policy":"deny","barcode":"8711117851783","featured_media":{"alt":null,"id":7432201044058,"position":7,"preview_image":{"aspect_ratio":1.173,"height":2313,"width":2713,"src":"https:\/\/cdn.shopify.com\/s\/files\/1\/1254\/1865\/products\/childrens-italian-kitchen-seed-starter-kit-edibles-growing-kits-15276852772954.jpg?v=1589309830"}}},{"id":32128937951322,"title":"Mexican Kitchen","option1":"Mexican Kitchen","option2":null,"option3":null,"sku":"mexkit","requires_shipping":true,"taxable":false,"featured_image":{"id":15276883542106,"product_id":4629245231194,"position":6,"created_at":"2020-05-12T19:58:35+01:00","updated_at":"2020-06-15T21:10:13+01:00","alt":"Tuinplus Mexican Kitchen Seed Starter Kit: Edibles","width":2454,"height":2204,"src":"https:\/\/cdn.shopify.com\/s\/files\/1\/1254\/1865\/products\/childrens-mexican-kitchen-seed-starter-kit-edibles-growing-kits-15276852674650.jpg?v=1592251813","variant_ids":[32128937951322]},"available":true,"name":"Seed Starter Kit: Edibles - Mexican Kitchen","public_title":"Mexican Kitchen","options":["Mexican Kitchen"],"price":600,"weight":144,"compare_at_price":null,"inventory_quantity":11,"inventory_management":"shopify","inventory_policy":"deny","barcode":"8711117851745","featured_media":{"alt":null,"id":7432210612314,"position":6,"preview_image":{"aspect_ratio":1.113,"height":2204,"width":2454,"src":"https:\/\/cdn.shopify.com\/s\/files\/1\/1254\/1865\/products\/childrens-mexican-kitchen-seed-starter-kit-edibles-growing-kits-15276852674650.jpg?v=1589309915"}}}],"images":["\/\/cdn.shopify.com\/s\/files\/1\/1254\/1865\/products\/childrens-green-kitchen-seed-starter-kit-edibles-growing-kits-15276852707418.jpg?v=1592251813","\/\/cdn.shopify.com\/s\/files\/1\/1254\/1865\/products\/childrens-seed-starter-kit-edibles-growing-kits-15276859949146.jpg?v=1592251813","\/\/cdn.shopify.com\/s\/files\/1\/1254\/1865\/products\/childrens-seed-starter-kit-edibles-growing-kits-14986605428826.jpg?v=1592251813","\/\/cdn.shopify.com\/s\/files\/1\/1254\/1865\/products\/childrens-seed-starter-kit-edibles-growing-kits-14986605690970.jpg?v=1592251813","\/\/cdn.shopify.com\/s\/files\/1\/1254\/1865\/products\/childrens-seed-starter-kit-edibles-growing-kits-14986605396058.jpg?v=1592251813","\/\/cdn.shopify.com\/s\/files\/1\/1254\/1865\/products\/childrens-mexican-kitchen-seed-starter-kit-edibles-growing-kits-15276852674650.jpg?v=1592251813","\/\/cdn.shopify.com\/s\/files\/1\/1254\/1865\/products\/childrens-italian-kitchen-seed-starter-kit-edibles-growing-kits-15276852772954.jpg?v=1589725030","\/\/cdn.shopify.com\/s\/files\/1\/1254\/1865\/products\/childrens-seed-starter-kit-edibles-growing-kits-16792764416158.jpg?v=1589725030","\/\/cdn.shopify.com\/s\/files\/1\/1254\/1865\/products\/childrens-seed-starter-kit-edibles-growing-kits-16792764448926.jpg?v=1589725030","\/\/cdn.shopify.com\/s\/files\/1\/1254\/1865\/products\/childrens-seed-starter-kit-edibles-growing-kits-16792764383390.jpg?v=1589725030"],"featured_image":"\/\/cdn.shopify.com\/s\/files\/1\/1254\/1865\/products\/childrens-green-kitchen-seed-starter-kit-edibles-growing-kits-15276852707418.jpg?v=1592251813","options":["Title"],"media":[{"alt":null,"id":7432205697114,"position":1,"preview_image":{"aspect_ratio":1.045,"height":2448,"width":2559,"src":"https:\/\/cdn.shopify.com\/s\/files\/1\/1254\/1865\/products\/childrens-green-kitchen-seed-starter-kit-edibles-growing-kits-15276852707418.jpg?v=1589309863"},"aspect_ratio":1.045,"height":2448,"media_type":"image","src":"https:\/\/cdn.shopify.com\/s\/files\/1\/1254\/1865\/products\/childrens-green-kitchen-seed-starter-kit-edibles-growing-kits-15276852707418.jpg?v=1589309863","width":2559},{"alt":null,"id":7432198127706,"position":2,"preview_image":{"aspect_ratio":1.682,"height":2247,"width":3780,"src":"https:\/\/cdn.shopify.com\/s\/files\/1\/1254\/1865\/products\/childrens-seed-starter-kit-edibles-growing-kits-15276859949146.jpg?v=1589309796"},"aspect_ratio":1.682,"height":2247,"media_type":"image","src":"https:\/\/cdn.shopify.com\/s\/files\/1\/1254\/1865\/products\/childrens-seed-starter-kit-edibles-growing-kits-15276859949146.jpg?v=1589309796","width":3780},{"alt":null,"id":7141794316378,"position":3,"preview_image":{"aspect_ratio":1.333,"height":3024,"width":4032,"src":"https:\/\/cdn.shopify.com\/s\/files\/1\/1254\/1865\/products\/childrens-seed-starter-kit-edibles-growing-kits-14986605428826.jpg?v=1586434278"},"aspect_ratio":1.333,"height":3024,"media_type":"image","src":"https:\/\/cdn.shopify.com\/s\/files\/1\/1254\/1865\/products\/childrens-seed-starter-kit-edibles-growing-kits-14986605428826.jpg?v=1586434278","width":4032},{"alt":null,"id":7141808570458,"position":4,"preview_image":{"aspect_ratio":1.333,"height":3024,"width":4032,"src":"https:\/\/cdn.shopify.com\/s\/files\/1\/1254\/1865\/products\/childrens-seed-starter-kit-edibles-growing-kits-14986605690970.jpg?v=1586434365"},"aspect_ratio":1.333,"height":3024,"media_type":"image","src":"https:\/\/cdn.shopify.com\/s\/files\/1\/1254\/1865\/products\/childrens-seed-starter-kit-edibles-growing-kits-14986605690970.jpg?v=1586434365","width":4032},{"alt":null,"id":7141799755866,"position":5,"preview_image":{"aspect_ratio":1.333,"height":3024,"width":4032,"src":"https:\/\/cdn.shopify.com\/s\/files\/1\/1254\/1865\/products\/childrens-seed-starter-kit-edibles-growing-kits-14986605396058.jpg?v=1586434311"},"aspect_ratio":1.333,"height":3024,"media_type":"image","src":"https:\/\/cdn.shopify.com\/s\/files\/1\/1254\/1865\/products\/childrens-seed-starter-kit-edibles-growing-kits-14986605396058.jpg?v=1586434311","width":4032},{"alt":null,"id":7432210612314,"position":6,"preview_image":{"aspect_ratio":1.113,"height":2204,"width":2454,"src":"https:\/\/cdn.shopify.com\/s\/files\/1\/1254\/1865\/products\/childrens-mexican-kitchen-seed-starter-kit-edibles-growing-kits-15276852674650.jpg?v=1589309915"},"aspect_ratio":1.113,"height":2204,"media_type":"image","src":"https:\/\/cdn.shopify.com\/s\/files\/1\/1254\/1865\/products\/childrens-mexican-kitchen-seed-starter-kit-edibles-growing-kits-15276852674650.jpg?v=1589309915","width":2454},{"alt":null,"id":7432201044058,"position":7,"preview_image":{"aspect_ratio":1.173,"height":2313,"width":2713,"src":"https:\/\/cdn.shopify.com\/s\/files\/1\/1254\/1865\/products\/childrens-italian-kitchen-seed-starter-kit-edibles-growing-kits-15276852772954.jpg?v=1589309830"},"aspect_ratio":1.173,"height":2313,"media_type":"image","src":"https:\/\/cdn.shopify.com\/s\/files\/1\/1254\/1865\/products\/childrens-italian-kitchen-seed-starter-kit-edibles-growing-kits-15276852772954.jpg?v=1589309830","width":2713},{"alt":null,"id":8966578438302,"position":8,"preview_image":{"aspect_ratio":1.236,"height":971,"width":1200,"src":"https:\/\/cdn.shopify.com\/s\/files\/1\/1254\/1865\/products\/childrens-seed-starter-kit-edibles-growing-kits-16792764416158.jpg?v=1589725029"},"aspect_ratio":1.236,"height":971,"media_type":"image","src":"https:\/\/cdn.shopify.com\/s\/files\/1\/1254\/1865\/products\/childrens-seed-starter-kit-edibles-growing-kits-16792764416158.jpg?v=1589725029","width":1200},{"alt":null,"id":8966576603294,"position":9,"preview_image":{"aspect_ratio":1.196,"height":1003,"width":1200,"src":"https:\/\/cdn.shopify.com\/s\/files\/1\/1254\/1865\/products\/childrens-seed-starter-kit-edibles-growing-kits-16792764448926.jpg?v=1589724910"},"aspect_ratio":1.196,"height":1003,"media_type":"image","src":"https:\/\/cdn.shopify.com\/s\/files\/1\/1254\/1865\/products\/childrens-seed-starter-kit-edibles-growing-kits-16792764448926.jpg?v=1589724910","width":1200},{"alt":null,"id":8966577258654,"position":10,"preview_image":{"aspect_ratio":1.207,"height":994,"width":1200,"src":"https:\/\/cdn.shopify.com\/s\/files\/1\/1254\/1865\/products\/childrens-seed-starter-kit-edibles-growing-kits-16792764383390.jpg?v=1589724942"},"aspect_ratio":1.207,"height":994,"media_type":"image","src":"https:\/\/cdn.shopify.com\/s\/files\/1\/1254\/1865\/products\/childrens-seed-starter-kit-edibles-growing-kits-16792764383390.jpg?v=1589724942","width":1200}],"content":"\u003cp\u003eA great place to start for your budding chef-gardener! These delightful kits contain everything you need to start you off growing edible flowers, herbs and veg.\u003c\/p\u003e\n\u003cp\u003eThe seeds are easy to grow and look after. The kits contain seeds, compost and a growing tray. Simply cover the seeds with compost, water, and put the lid on the tray. Once seedlings have grown two or three leaves they can be transplanted into individual pots before planting out in the garden.\u003c\/p\u003e\n\u003cp\u003eFour starter kits are available, and each contain six seed types:\u003c\/p\u003e\n\u003cul\u003e\n\u003cli\u003e\n\u003cstrong\u003eGreen Kitchen (Herbs):\u003c\/strong\u003e thyme, coriander, dill, basil, parsley, chives.\u003c\/li\u003e\n\u003cli\u003e\n\u003cstrong\u003eEdible Flowers:\u003c\/strong\u003e calendula, viola, lavender, borage (star flower), centaurea (corn flower), tropaeolum (nasturtium).\u003c\/li\u003e\n\u003cli\u003e\n\u003cstrong\u003eItalian Kitchen:\u003c\/strong\u003e aubergine, sweet pepper, rocket, tomato, sweet basil, courgette.\u003c\/li\u003e\n\u003cli\u003e\n\u003cstrong\u003eMexican Kitchen:\u003c\/strong\u003e cayenne pepper, jalapeno pepper, sweetcorn, tomato, coriander, husk tomato.\u003c\/li\u003e\n\u003c\/ul\u003e\n\u003cp\u003eNot for children under 3 years old. Adult supervision is recommended.\u003c\/p\u003e\n\u003cp\u003e*Please bear in mind that the plants in the Edible Flowers, Italian and Mexican Kitchen kits are best planted in the spring, and if planted now, are unlikely to germinate.\u003cstrong\u003e To avoid disappointment, we suggest planting the Green Kitchen, which will grow all year round\u003c\/strong\u003e.*\u003c\/p\u003e"}
Seed Starter Kit: Edibles
Customer Reviews
05 Jul 2020
Jacqueline S.
United Kingdom
Great Little Starter Packs
I was desperate to get my niece into the joys of growing things and these kids starter packs are ideal. She is 8 and straight away was eager to plant and watch them grow. In taking some interest in growing flowers/vegetables I am hoping she will maintain this interest and I wish I had introduced her earlier. The packs are tailored towards kids and they were quick to deliver. No disappointment from me.
20 May 2020
C B.
United Kingdom
Terrible
Terrible Nothing has grown, waste of money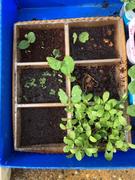 24 May 2020
Gardening for Kids
Hi Ms Burton. We've been in contact with you privately about your products to see if we can help. From your picture it appears that these seeds are waterlogged - the soil needs to be damp but not wet. Those seeds that have not germinated as successfully appear not to have been buried under the soil. Try covering the seeds with a few millimetres of soil and seeing if they germinate. But the main problem here seems to be over-watering - once this is resolved, they should grow more successfully. I hope that helps.
20 May 2020
Naomi W.
United Kingdom
Absolutely brilliant!
Order came quickly and my daughter absolutely loved planting all the seeds and watching them grow. The following week we ordered some more packs! Can't fault the service and will definitely be ordering again soon!
20 May 2020
Gardening for Kids
Glad to hear she loved the growing. Hope to see you again soon
01 May 2020
Gemma D.
United Kingdom
Seed starter kit
Excellent product, my friends son has had fun planting them. Thank you